Alaska's Stonewood Lodge
All Inclusive Luxury Wildernesss Lodge 
World class fishing and recreational opportunities abound in a true wilderness experience here in Alaska. The location of Stonewood Fishing Lodge could not be better–nestled on the shores of beautiful Lake Clark and within the Bristol Bay watershed. Lake Clark Alaska is a piece of paradise and there are few places in the world that compare to the all around beauty and gateway for adventure. While some of our hunts use Stonewood Lodge for a launching point, it is the basecamp for our trophy fishing and backcountry expeditions. The lodge sits in the watershed of the most productive commercial and sport fishing region in the world and is also Alaska's only designated trophy Rainbow Trout area. Make sure to view our fishing options at our Stonewood Expeditions website using the link on this page.
At Stonewood Lodge, you will find all the qualities of a world class recreational and sport fishing lodge. Our lodge has a classic yet rustic feel and offers 10,000 square feet of contiguous space and all modern amenities rarely found off of the road system in Alaska. Our guests stay in the main lodge and rooms have a queen and twin in the room as well as a private in-suite bathroom. The lodge has in floor heat thermostatically controlled, 24 hour electricity, telephone services, and limited Wifi. We do encourage some of our remote outpost camps for some overnight accommodations on site, such as while on the river and to shorten travel times to and from the lodge. These excursions are your choice as you decide your daily routine. There is an adjoining den, library, fly-tying area, office desk, sauna, and recreational room open for conferencing and debriefing. The Lodge capacity is 28 guests, however we generally settle on small groups of less than 12 guests a week.
Visit the Stonewood Expeditions Site
View Our Lodge Adventures Visit the Site
View Our Brochures
Instantly download our brochures.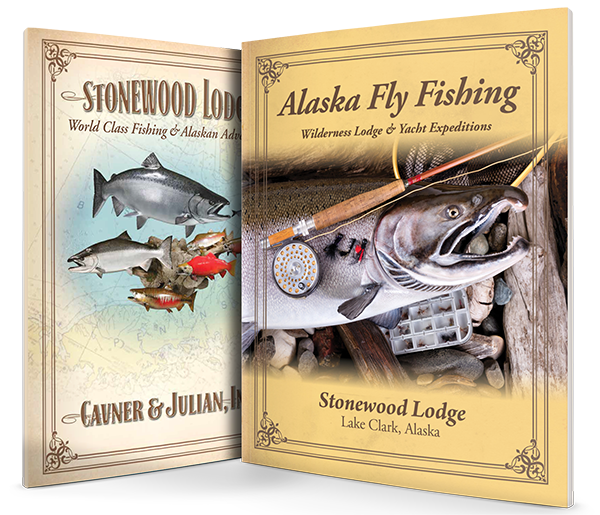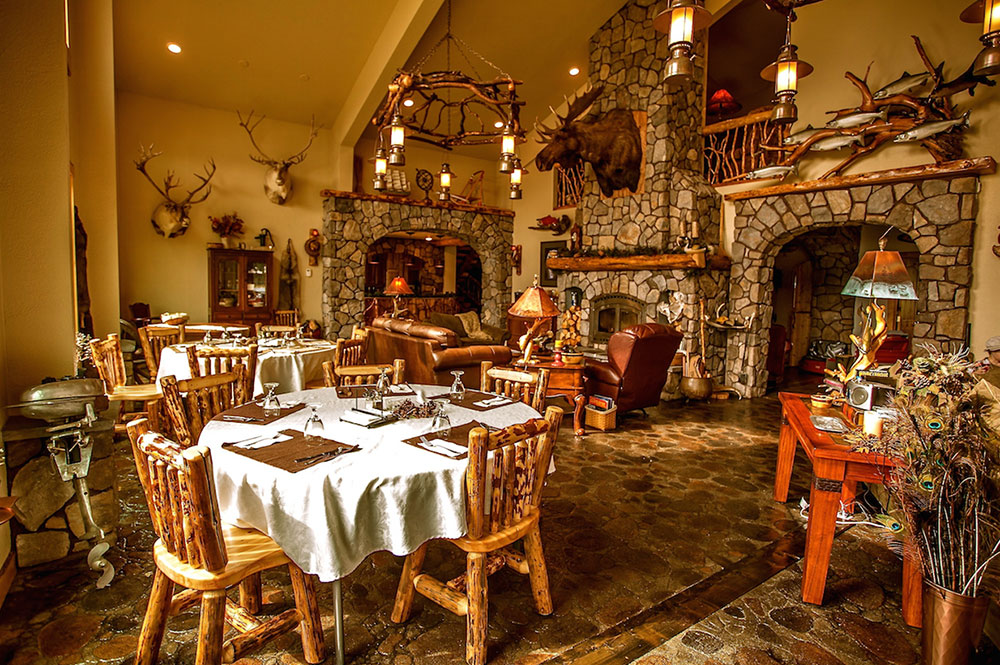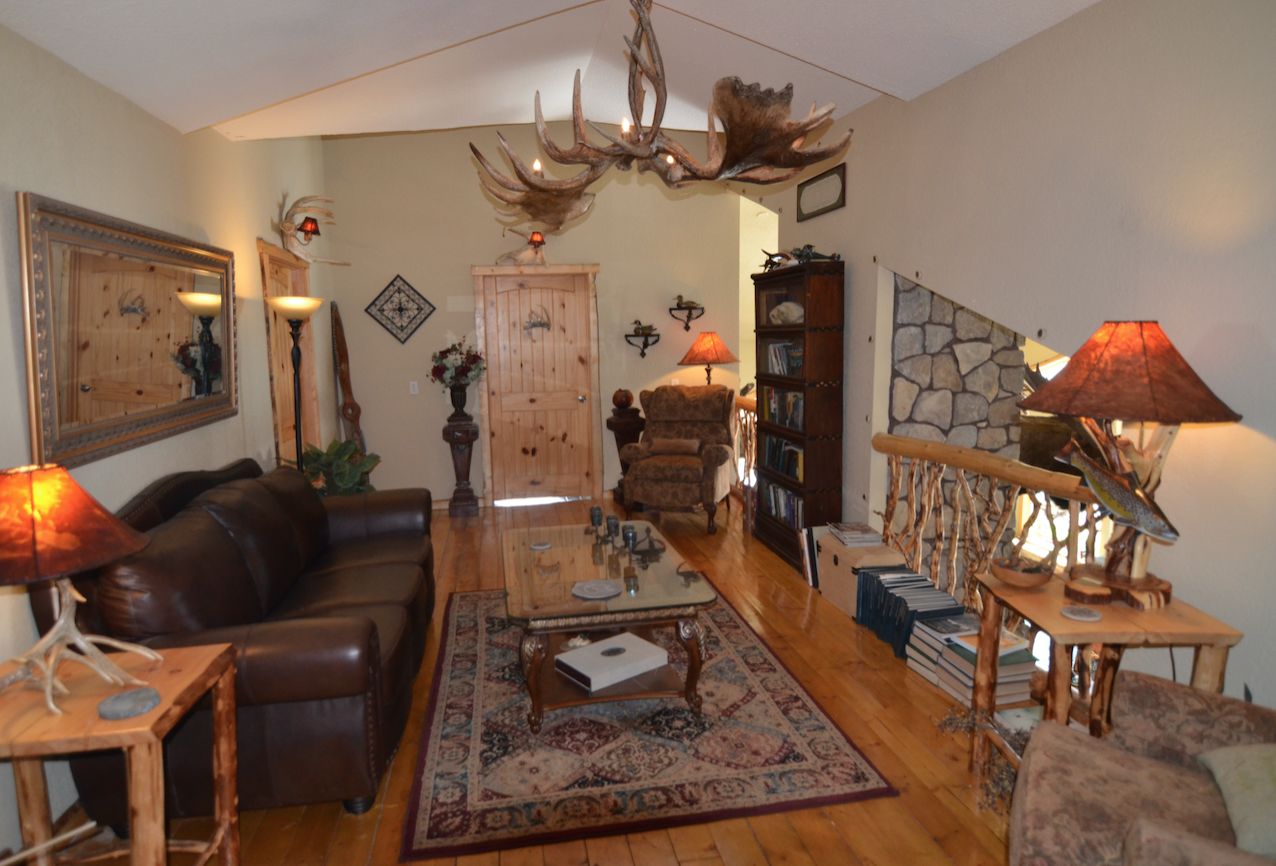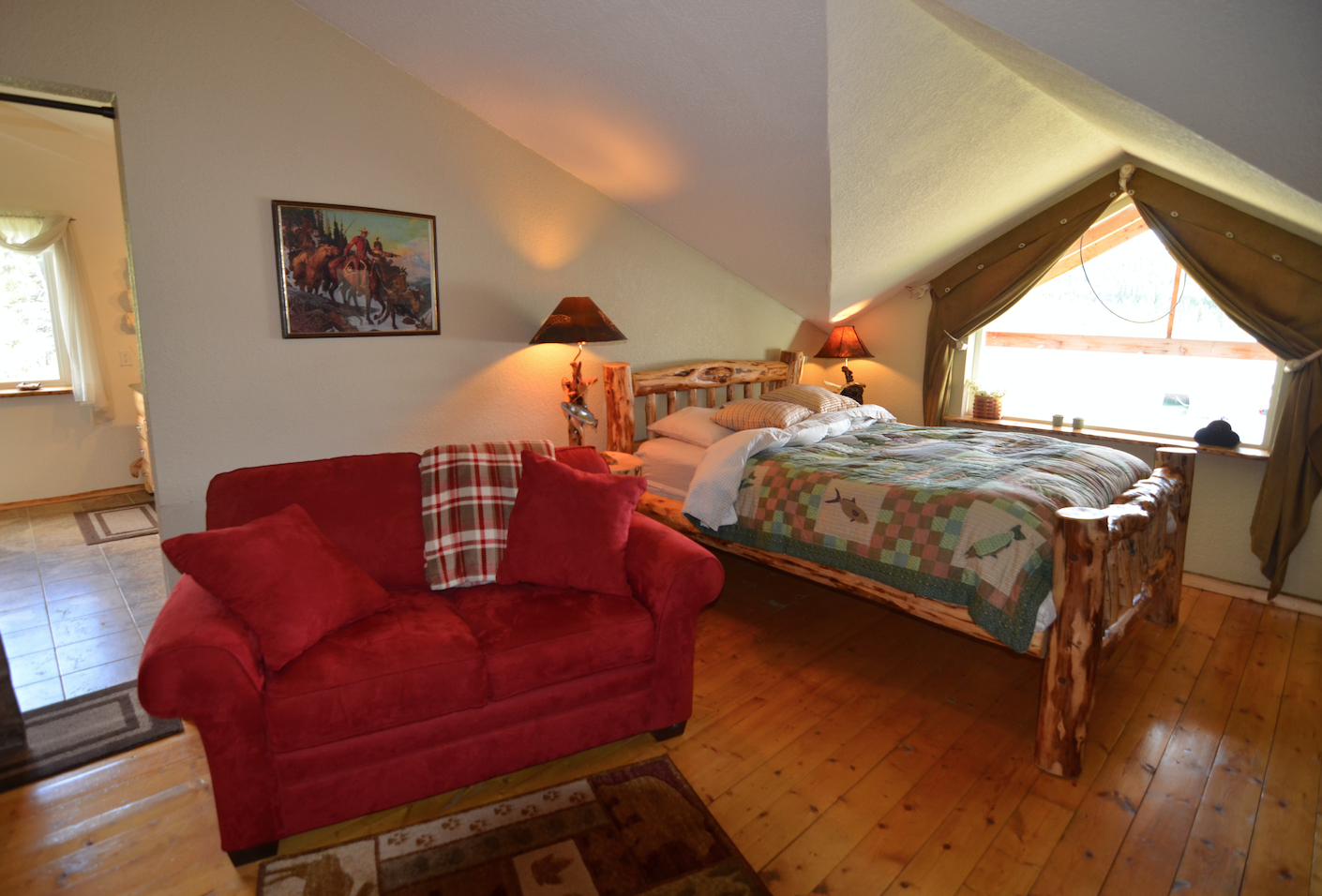 True Alaska Hospitality
Exquisite Dining
We serve the finest food at Stonewood Lodge—famous for our shore lunches and incredible dinners highlighting prime meats and fresh fish and seafood. Three full meals, plus snacks, are served daily.  Our spacious lodge dining room has a beautiful view of Lake Clark and surrounding mountains, providing spectacular scenery to compliment the meal experience.Begin your morning with a wonderful hearty breakfast served in the dining area as you gaze out on the lake and anticipate the days adventures.  There are plenty of options for breakfast from hot dishes or meats, fruits, eggs, yogurts, and pastries that will be sure to fill everyone up and provide the needed energy to start off your day.  Round out your breakfast with a glass of juice or a warm mug of coffee, tea, hot chocolate or apple cider.
Fresh & Native Foods
Guests gather for hors d'oeuvres while dinner is prepared nightly with specially paired selections of fresh fish and seafood with prime meat cuts. Dinners will include features such as King Crab Legs or Dungeness Crab, Filet Mignon, Prime Rib, Alaska Shrimp, Steak, Halibut, Cod, Lamb, Duck, and Chicken. We serve every taste you could desire!   We also cater to special meal requests when you reserve your trip.
Personal Attention
Stonewood Lodge is a very comfortable and peaceful lodge gratifying to the express wishes of our few guests each week. Whatever your needs, you will be treated to an experience that you'd expect from any exceptional destination resort. We enjoy catering to many interests and our lodge is a location where you will find something for everyone in a family or group. At Stonewood Lodge we furnish as needed, any rods, reels, lures and flies as well as any foul weather gear, waders, and boots. You may also bring your own tackle. There is no additional equipment rental cost or cost for lures or flies.