Peninsula Brown Bear Hunts
World Class Trophies and Alaskan Adventure
Testimonies     Gallery      The Dates      Map     Accommodations
Our brown bear areas on the Peninsula are producing some fabulous trophies, providing some great opportunities for world class bears. The location of Pacific Bear Bay Lodge is geographically the most ideal setting for hunting, fishing, and recreation with the use of boats, aircraft, argo, atv's and rafts. Bear density is high in our areas and we have consistently harvested some of the largest brown bears taken each season. With some camp locations, it may be optional to combine fall bear hunting with fishing directly at the camp or from Stonewood Lodge in Lake Clark on conclusion of the hunt. We use the most up to date and proven equipment, gear, and supplies and provide our hunters with detailed information and gear list in the months prior to their hunt.
The Spring Season on the Peninsula for coastal Brown Bear runs from May 10th – 31st of even years and the fall season runs from October 1st – 21st of odd years. Most flights are direct from Anchorage to our camps, making it easy for our hunters and their gear, and the cost is split between the hunters. It is also possible to make arrangements for a non-hunting participant to accompany a hunter- we have hosted many spouses at camp or Stonewood Lodge during the hunting trips.
We are committed to providing our hunters with not only success but an organized and enjoyable experience. Every detail matters to us and we take extra care to provide an incredible and memorable hunt. We look forward to our future seasons at bear camp and spending time grilling and talking around the fire!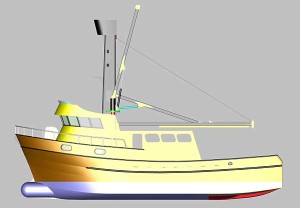 YACHT BASED HUNTS
We have built our very own vessel for  Alaska brown bear hunts and fishing expeditsions.  This boat will give hunters access to a varity of hunting areas they will experience amazing amenities and comfort while on board.  The boat will also be used for Southeast Alaska Black Bear and Moose hunts as well as Sitka Deer Hunts on Kodiak Island. Contact us to learn more about the amazing hunting options which use this new state of the art vessel.   
FLY DIRECT TO THE YACHT
With out new yacht hunting options clients are now able to fly private aircraft directly to Sand Point Alaska where the Northwest Odyssey will pick them up. Hunters can start and finish their hunt right by a paved airstrip with no additional charters or flights. Sand Points has a 5,213 foot paved runway making it plenty long for nearly all private airplanes and the pilots can stay at nearvy lodges.
Testimonials
 "I saw more bears the first morning of my hunt than I did on my entire previous two Brown bear hunts combined." – Bryce T.
"First of all, thank you again for one of the best hunts ever. I just don't know how it could have been better – great facilities, equipment, food, location, transportation, guides, trophies and, as I mentioned, great pre-hunt instruction. – Hugh Jacks, Director GSCO/OVIS"
"Preston knows big Penninsula Bears and his area is second to none. The beaches we hunted looked like the brown bear version of 'Jurassic Park'." – Tom Miranda ESPN Outdoors"
"If someone wants a coastal brown bear, this is the spot." – Nick B.
"My guide Luc gave me 110% effort…my opinion is the area has a high number of quality bears. The bear camp, equipment, and food were excellent and all aspects were well covered, both before and during the hunt by the outfitter." – Robert H.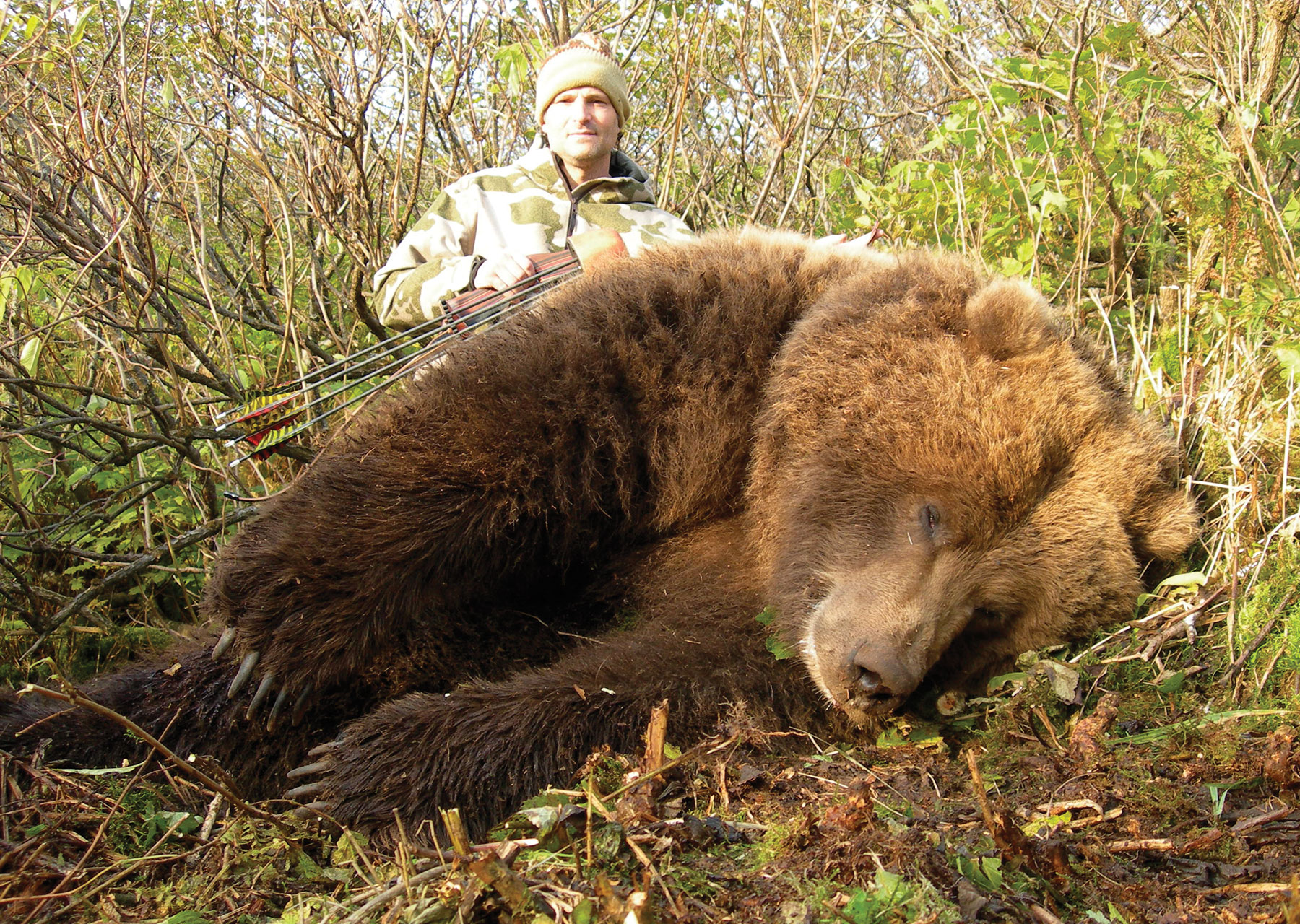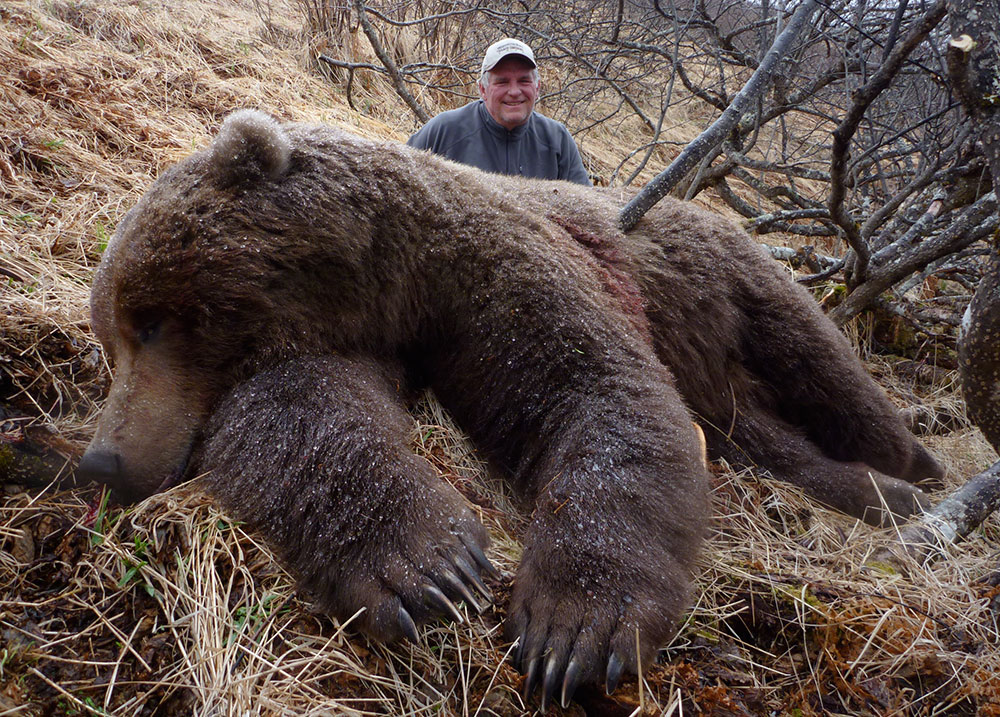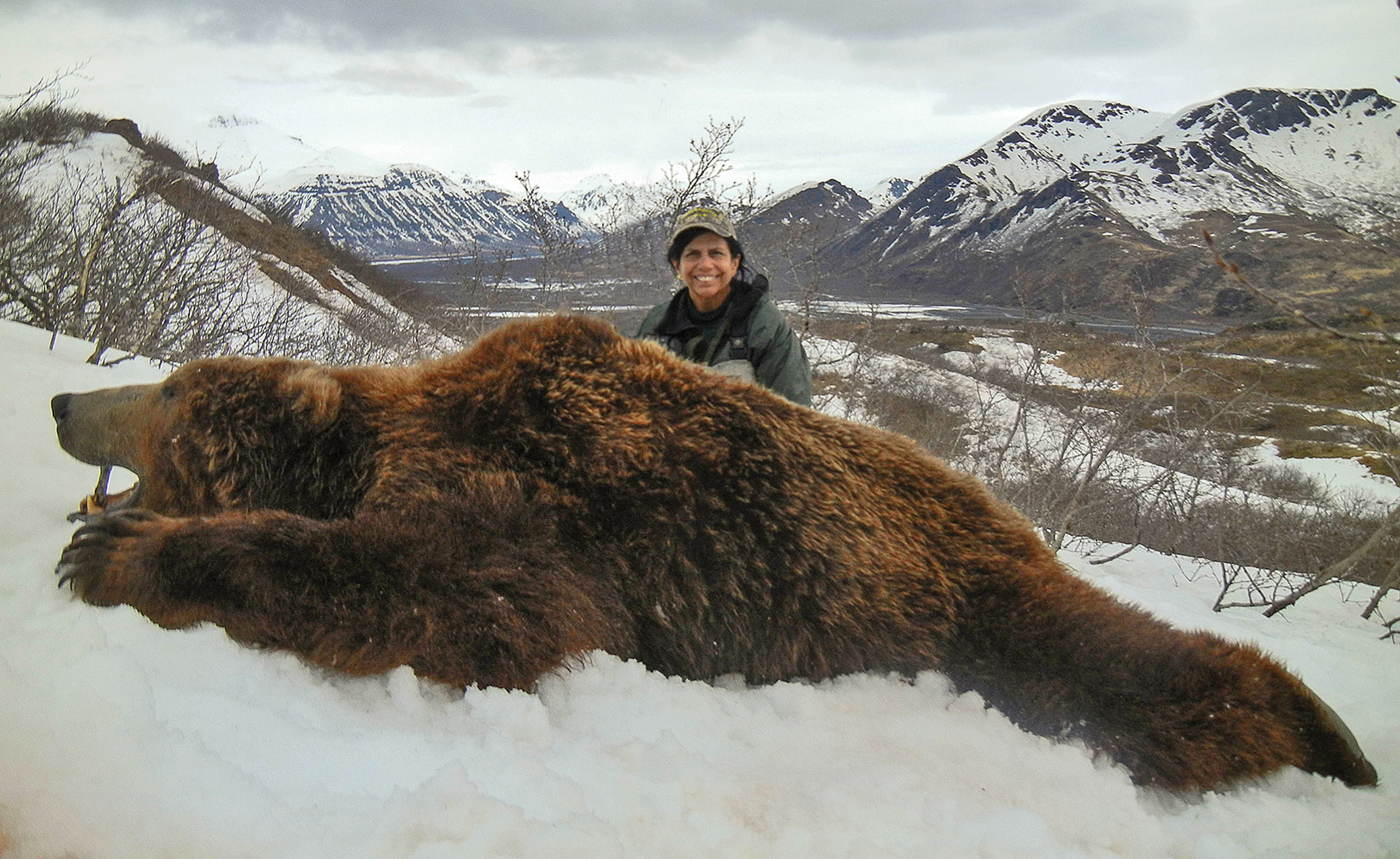 "My guide Joe and I had a wonderful base camp off of a main river channel with a birds eye view of miles of country. We spotted a large boar with a sow and hiked as fast as we could across a 2 mile stretch of slough. We got close but decided not to shoot through the thick alders they were in and lost track of them. We found them again the very next morning. On the third stalk we crawled within 85 yards and I shot the boar across a small slough. The sow went nuts and charged us, popping her teeth as she came. Wow what a rush! We gathered our wits about us and got to our bear half submerged in the slough. He was huge! The hunt was very organized and prepared with good logistics. The highlight was the whole experience- the camaraderie, wildlife, and the quality of bears in the area was very good. They take the time to ensure a good hunt and I would highly recommend it to all." – Eric S.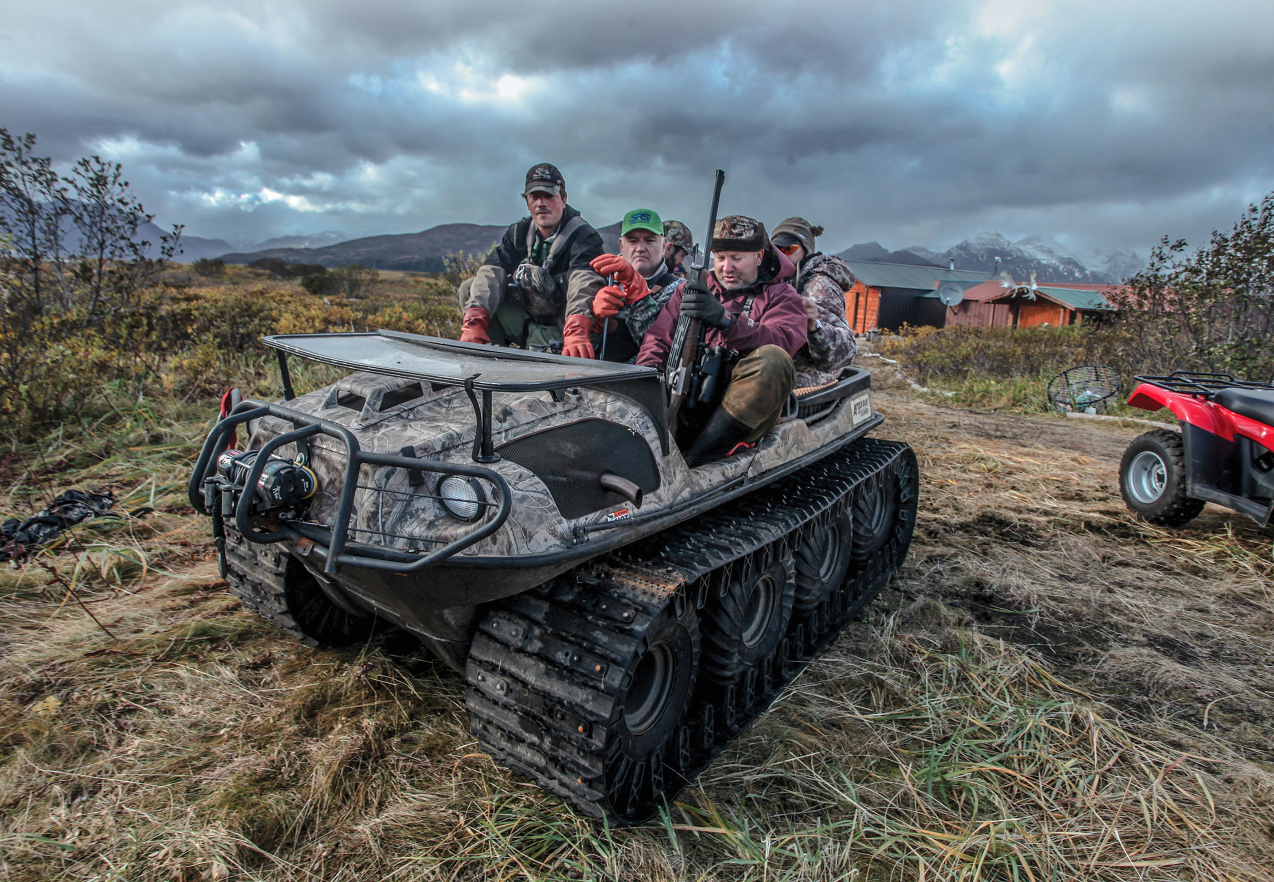 "For a firearm I chose my 416 Rigby with open sites and asked Preston if we could be close when we shot our bear. Little did I know we would top a bank on a river and find my bear closing the distance fast and at 25 yards. I only had time to raise up and fire. The next day I chose an option to go wolf hunting and my guide was able to call in a trio of wolves. This was no accidental sighting but amazing we were able to purposefully go out wolf hunting and promptly bag a wolf. Allen and I had time to enjoy some fishing and relax after a great hunt." – Ralph D.
The outfitter, guide, and area were all excellent, top notch, and I highly recommend them for anyone considering an Alaskan Brown Bear hunt in the future. By the time I left, another 10 foot bear and a 9 foot 6 inch bear had also been taken by hunters. All 3 bears being excellent animals for the species. I definitely plan to hunt with the outfitter again. I got back home yesterday and am now back at work. I still think of the hunt, the bear, the country, etc. constantly and am having a hard time focusing on my work. I am very thankful I was able to go on the hunt and take such a beautiful animal." – Terry H.
Hunting Dates
The Brown Bear hunting seasons alternate between the fall and spring. Fall hunts take place during odd years while spring hunts take place on even years.
Spring Dates (2016, 2018, 2020): May 9 – 20 / May 11 – 20 / May 20 – 31
Fall Dates (2017, 2019, 2021): 

Sep 30 – Oct 9 / Oct 4 – 15 / Oct 9 – 20
.
Pricing & Booking
Request Pricing & Book A Trip
Contact Us
Hunt Locations Click on the markers for descriptions.
Our brown bear hunts take place at on the Alaska Peninsula. We have our own private concession and other privately leased lands in which we harvest some of the largest bears in the state. Hunts are supported by a variety of means including: aircraft, Argos (4x4 vehicles) and boats. Camp accommodations vary, there is a comfortable lodge at our main Pacific Bay Bear camp and spike tents or cabins at other hunting locations.
We also offer Peninsula Brown Bear hunts based out of our Stonewood Lodge located on the 50 mile long Lake Clark. The hunt will begin and end at Stonewood Lodge, with a flyout to a remote camp location. This world class lodge is located within the Lake Clark National Park and offers gourmet meals and trophy fishing as well.
For inland browns and grizzlies we hunt from our own Swiftwater Camp on the Nushagak River. This remote camp offers amazing Alaska wilderness hunting with the aid of jet boats.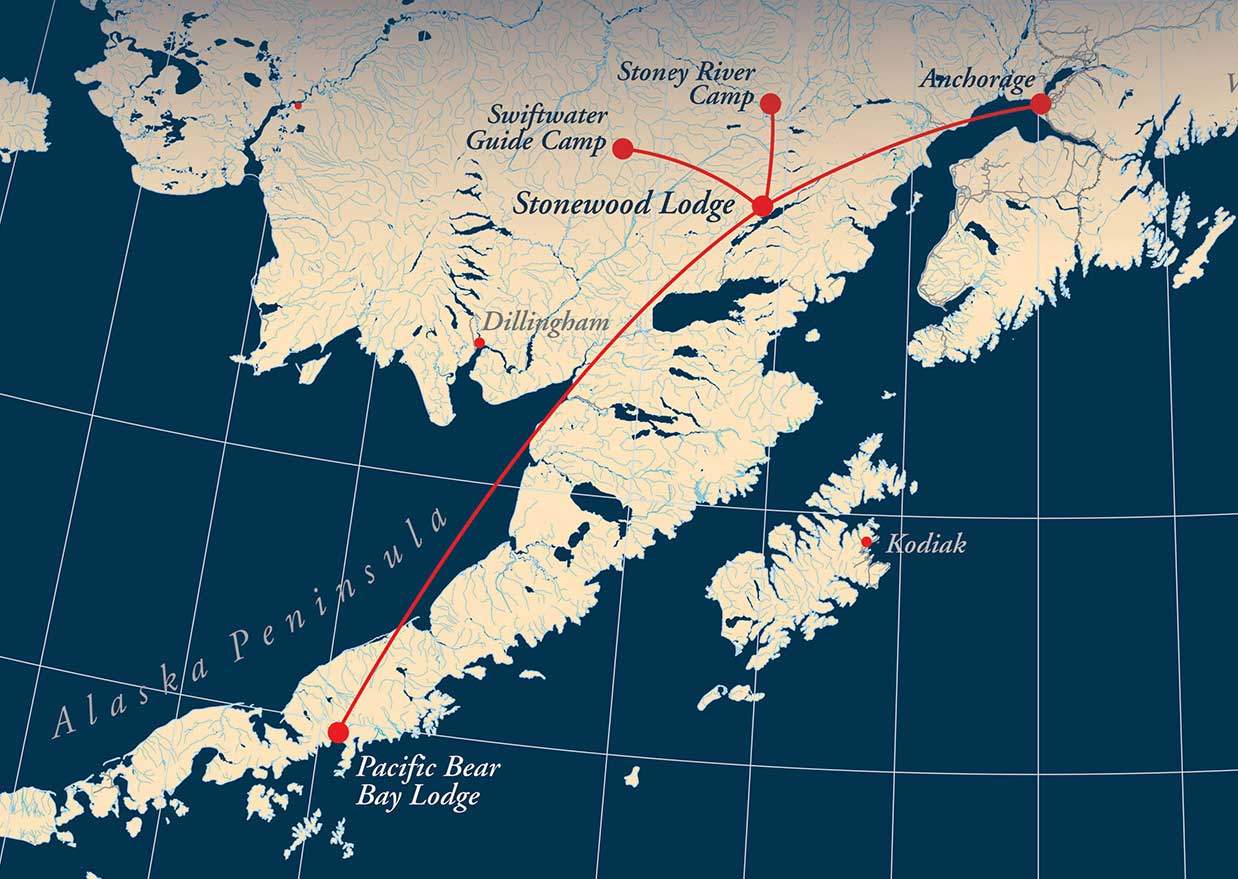 Accommodations at Camps Vary
We have everything from lodges, cabins or deluxe style tents. Meals are filling and satisfying, featuring cooked specialty dishes and supplemented with fresh vegetables and fruit. You can also be assured we'll cook up any freshly caught fish or seafood and supply some smoked salmon and wild game sausage. There are also plenty of snacks and warm drinks to keep you full and content.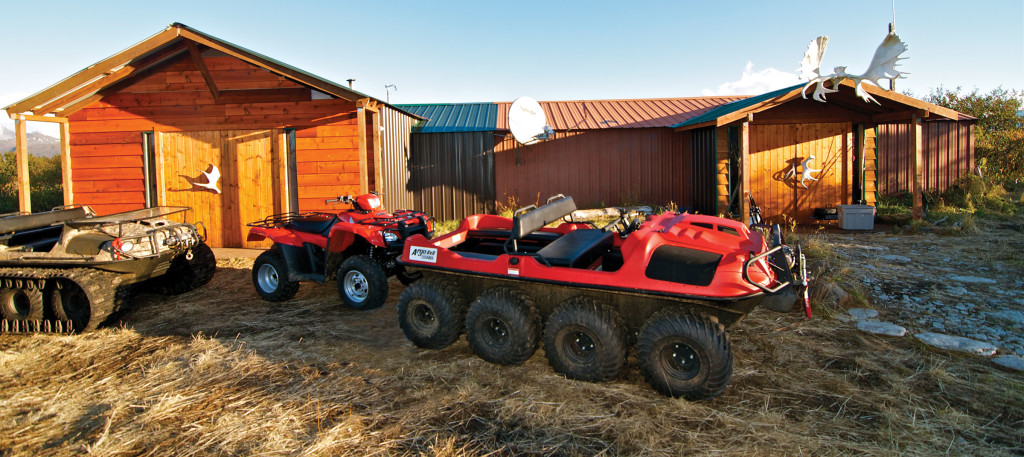 Pacific Bay Bear Lodge on the Alaska Peninsula offers a comfortable main lodge building and spike cabins and spike deluxe tents. Here Argos, boats and aircraft are used to aid with accessing spike locations and hunts.
Lake Clark is home to our Stonewood Lodge, a 10,000 square foot luxury wilderness lodge only accessible by plane. This location is within Lake Clark National Park and home to some of Alaska's best trophy fishing.  This creates a very relaxing starting point for some of our brown bear and grizzly hunts on the coast or inland areas.
Learn more about our Alaska Adventures at our Stonewood Lodge page.