Dall Sheep Hunts
Alaska Range & Brooks Range Dall Sheep Hunts
Testimonies     Gallery      The Dates      Map     Accommodations
We have enjoyed some great sheep hunting and even more so, helping to fulfill the dreams of our hunters who desire the experience of hunting Dall Rams. No matter the age or ability of the hunter, we will work together to provide a hunt that is tailored to each hunters capability and can provide extra means of help if needed. We do not require our hunters to carry a heavy backpack- most of our past hunters have used a small backpack or hip pack. We want everyone that dreams of hunting Dall sheep to have the opportunity to experience this hunt, it is one that will be remembered for a lifetime!
Sheep are also great to hunt in combination with Caribou and Grizzly Bear and you do not need to put in for any draws in the areas we hunt. We have smooth logistics for our hunters-getting you into base camp quickly and efficiently. At some locations depending on the camp departure point, we provide a staff member to meet you at the airport and get you transitioned through heading to base camp.
Our staff provides detailed gear lists and spends extra time going over each item that will help to ensure your success. We use proven equipment that is designed and based on mountaineering use and is often very light weight, high tech, and efficient. Our food menu consists of a wide variety of options- from some light weight freeze dried meals to more deluxe grilling back at base camp. We supplement with ample amounts of fruits, vegetables, and fresh meats and dairy. You can be sure that we'll also have plenty of snacks and warm drinks to keep you full in between our main meals.
Testimonials
"I had never been to Alaska, let alone the arctic circle. That being the case, I was only familiar with it from books and other media. When I arrived, I was awestruck. Nothing can adequately prepare you for the incredible country that it is. The guides were incredible- first, they were results oriented, many times going to extreme lengths to assist me in getting the very best sheep possible. Secondly, they were really great guys to be with- I cannot tell you how important that is on such a physically and mentally challenging journey. Looking back I would say that the whole hunt was by far one of the most incredible experiences of my life. Getting a near record sheep was merely a byproduct of that experience!" – Pat L.
"Preston, I wanted to take a moment to thank you and your staff for a trip of a lifetime…there is not a day that goes by that I do not go through the photo's and smile at the memories of the hunt. Your staff was one of the most hard working and positive that I have ever had the opportunity to spend time in the field with. I was amazed at the sheep I saw during my hunt and the quality of the Rams – the hunt was everything that I dreamed it would be and more – and trust me, Preston, I was expecting a tough, challenging and rewarding trip, a trip that my grandfather always envisioned. To have the opportunity to hunt in your area and with your staff was truly a dream come true – and to be able to harvest an 11 year old ram was icing on the cake! Thank you for everything, Preston!" – Brian S.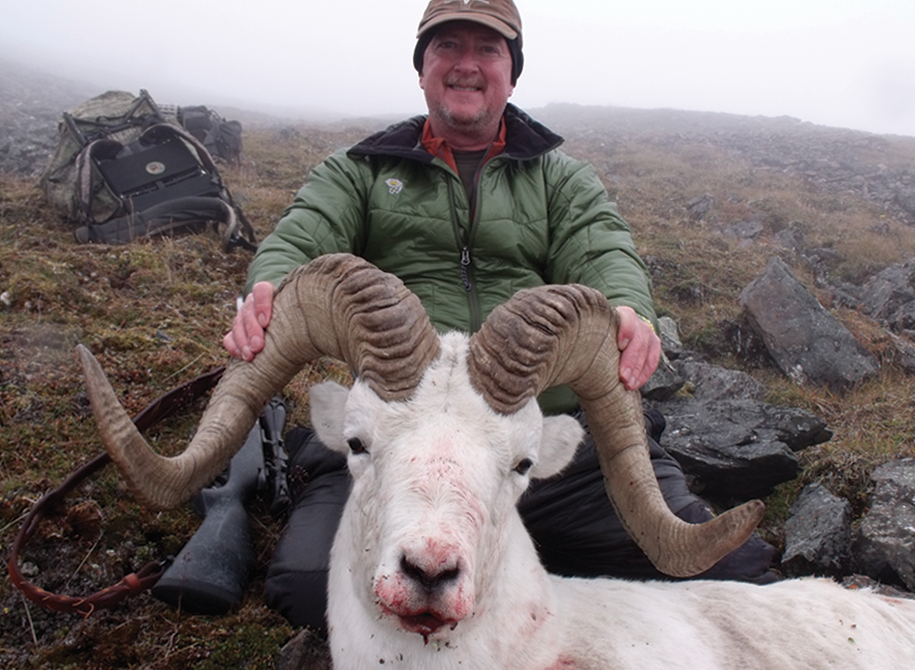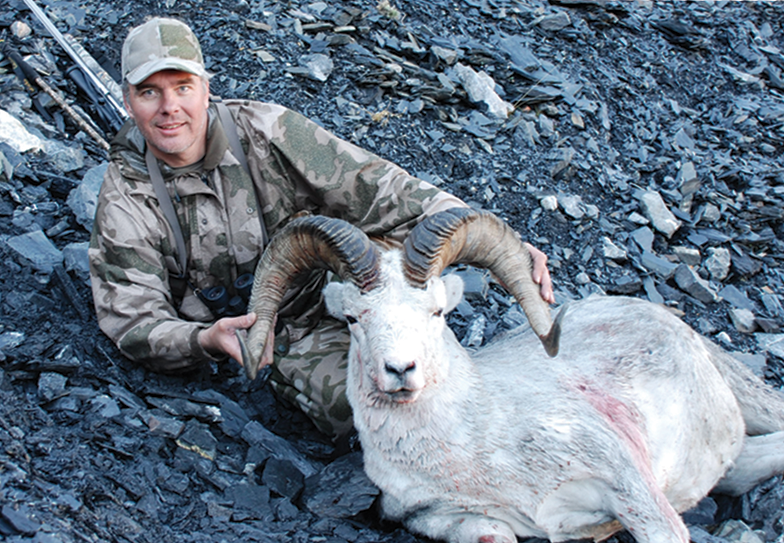 "Sheep hunting is always special, but when you hunt with a good friend you build some great memories. My buddy John and I are both 68 years old but we "got her done" with the help of our guide, Preston Cavner and his two big Newfoundland pack dogs. The journey started with a flight into Fairbanks in John's turbine commander. From there we flew into the Brooks Range Mountains. The next day we hiked up our drainage until we reached the spot Preston had planned for us to camp – a beautiful spot with a great view and sheep around for us to start glassing with the spotting scope. We found nine rams together and made quite a stalk until we peeked over a ridge and saw them at just 100 yards. We snuck in on them further until we got to a small tundra outcropping we could lay on. We then inched forward until we had the Rams in view only 80 yards away -perfect set up. We had plenty of time watching them to settle on the biggest two and John was to shoot first with me following up on the second ram. As John shot the ram fell and mine was up and running. He stopped after about 20 yards and turned broad side. We had two nice rams down. We were able to pull John's ram the twenty yards over to my ram so we could take pictures together and then relaxed for a bit. We dressed out the 2 Rams and headed all the way back to base camp arriving at 1:30 in the morning. Two tired old guys who were very happy. The next day was beautiful and we decided to try our luck downstream on some arctic char. Fortunately we took our rifles because we stumbled into three nice caribou bulls about a mile from camp. John shot the biggest one first and I took the second biggest. This time we pulled my Caribou over to John's about 20 yards away and were again able to take pictures of both the caribou together. What a great hunt! Two rams and two caribou right together; good camaraderie with friends, lasting memories of a great hunt. Thank you, Preston." – Tom P.
Hunting Dates
Our Dall Sheep hunts are conducted in August and early September each year. Depending on the hunting area, we use different methods of transportation into our areas by either small aircraft or horses. Newfoundland pack dogs are also used in some areas for packing support. If our hunters choose not to carry a pack, extra help will be on the hunt either in the form of a packer, horses, or pack dogs if needed.
Pricing & Booking
Request Pricing & Book A Trip
Contact Us
Hunt Locations
We have a variety of Dall Sheep hunting areas in the Alaska Range. This includes areas around our Stoney River Camp as well as our Moose and Dall Sheep camp located North of Anchorage. In this vast and game rich area we have access to multiple areas which produce trophy animals year after year. Trophy Dall Sheep hunts are also available in western Canada.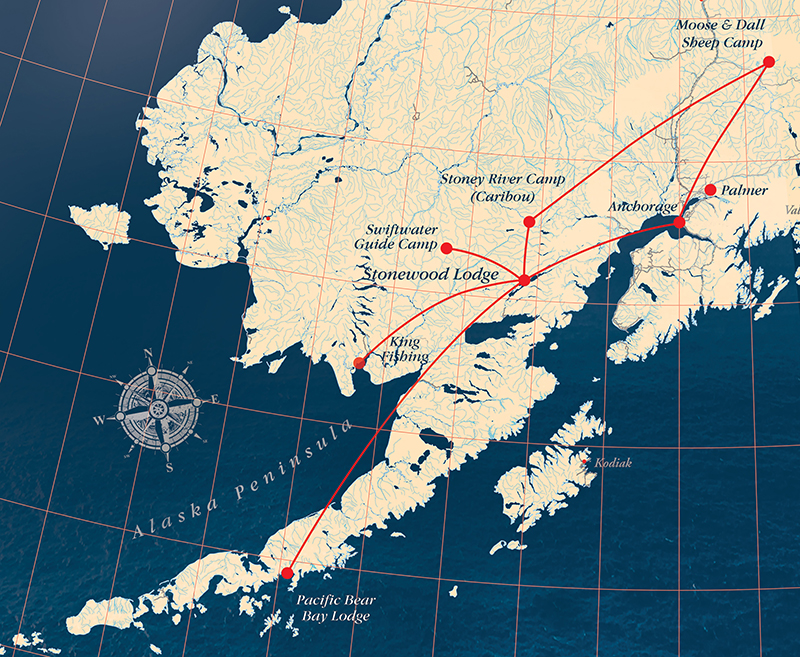 Accommodations
Dall Sheep camps consist of alpine style tents. All supplies are flown in on small bush craft to some of the most remote and beautiful areas of the state. We do our best to provide the highest quality gear to make sure the hunters are equip to handle the most elements and to make their hunt as enjoyable and successful as possible. Weahter can be harsh in Alaska so hunters do need to be ready to hanld the changing weather and we will work with you and provide a detaile packing list to get you prepared for the hunt.