Alaska Wolf Hunts
World Class Trophies and Alaskan Adventure
Testimonies
Gallery
The Dates
Map
Accommodations
Alaska wolves can be very impressive in size and easily weigh from 100-150 pounds on average. Our Alaska Peninsula hunting locations contain expansive vistas and ridges, perfect for spotting the wolf traversing the coastal areas for various small game and bear carcasses.  We have also had good response to using calls and watching from vantage points that overlook valleys the wolves travel through.  
It is common to combine wolf with a fall or spring brown bear hunt, but we also offer trips which focus solely on hunting wolves. These animals can have beautiful fur in any of the seasons we hunt them and they make a great addition to a hunters mount collection.
We are committed to providing our hunters with not only success but an organized and enjoyable experience. Every detail matters to us and we take extra care to provide an incredible and memorable hunt. We look forward to our future seasons at bear camp and spending time grilling and talking around the fire!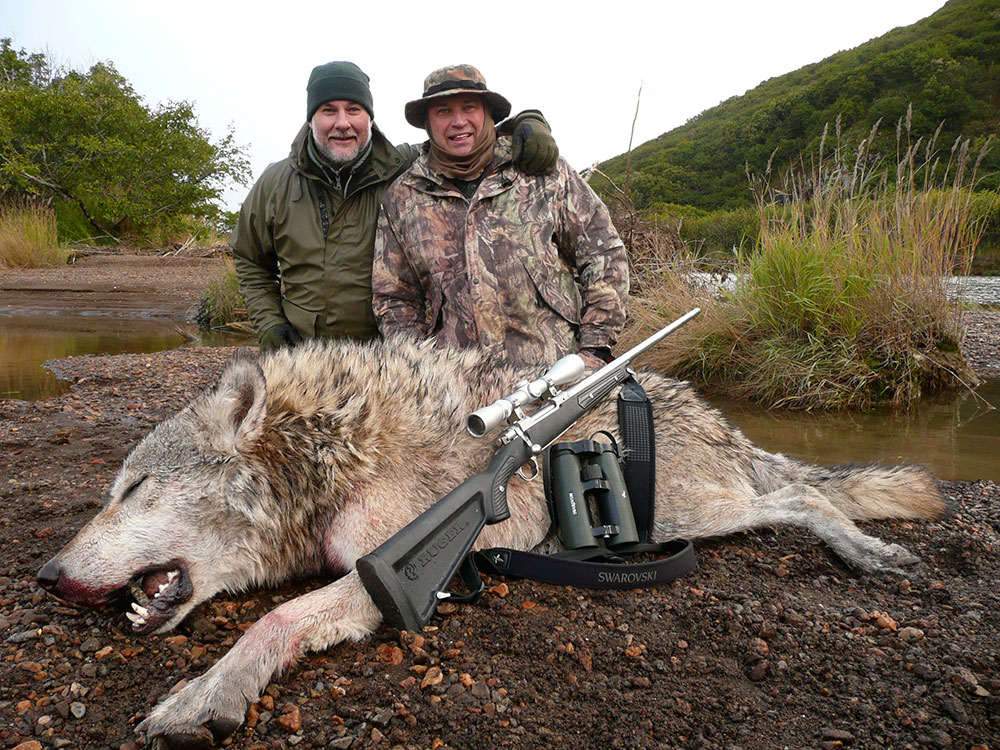 "I chose an option to go wolf hunting and my guide was able to call in a trio of wolves. This was no accidental sighting but amazing we were able to purposefully go out wolf hunting and promptly bag a wolf." – Ralph D.
"A wolf started howling behind us. We moved around to the other side of our vantage point and after a few minutes of glassing we located him. My guide gave a howl and the wolf turned and started coming towards us on the large stream bed. He was coming in and out of some brush along the stream-we expected him to stay and show up along the river and then all of a sudden he was directly below us and at 85 yards. The wolf has a beautiful white pelt and he will look great in the trophy room." – Dale W.
Hunting Dates
Wolves can be hunted at various times of the year. Wolves are commonly hunted during our bear seasons which alternate between the fall (odd years) and spring (even years). Contact us for additional wolf hunt dates.
Pricing & Booking
Request Pricing & Book A Trip
Contact Us
Hunt Locations Most of the wolf hunts take place with a brown bear hunt at Pacific Bay Bear Lodge or our other camps on the Alaska Peninsula. This area is a private concession in which we harvest impressive wolves and some of the largest bears in the state. Hunts are supported by a variety of means including: aircraft, Argos (4×4 vehicles) and boats. Camp accommodations vary, there is a comfortable lodge at the main Pacific Bay Bear camp and spike tents or cabins at other hunting locations.
Some hunts also take place from our luxury Stonewood Lodge located on the 50 mile long Lake Clark. This world class lodge is located within the Lake Clark National Park and offers gourmet meals and trophy fishing as well.
For inland browns and grizzlies and wolf combinations, we hunt from our Swiftwater Camp on the Nushagak River. This remote camp offers amazing Alaska wilderness hunting with the aid of jet boats.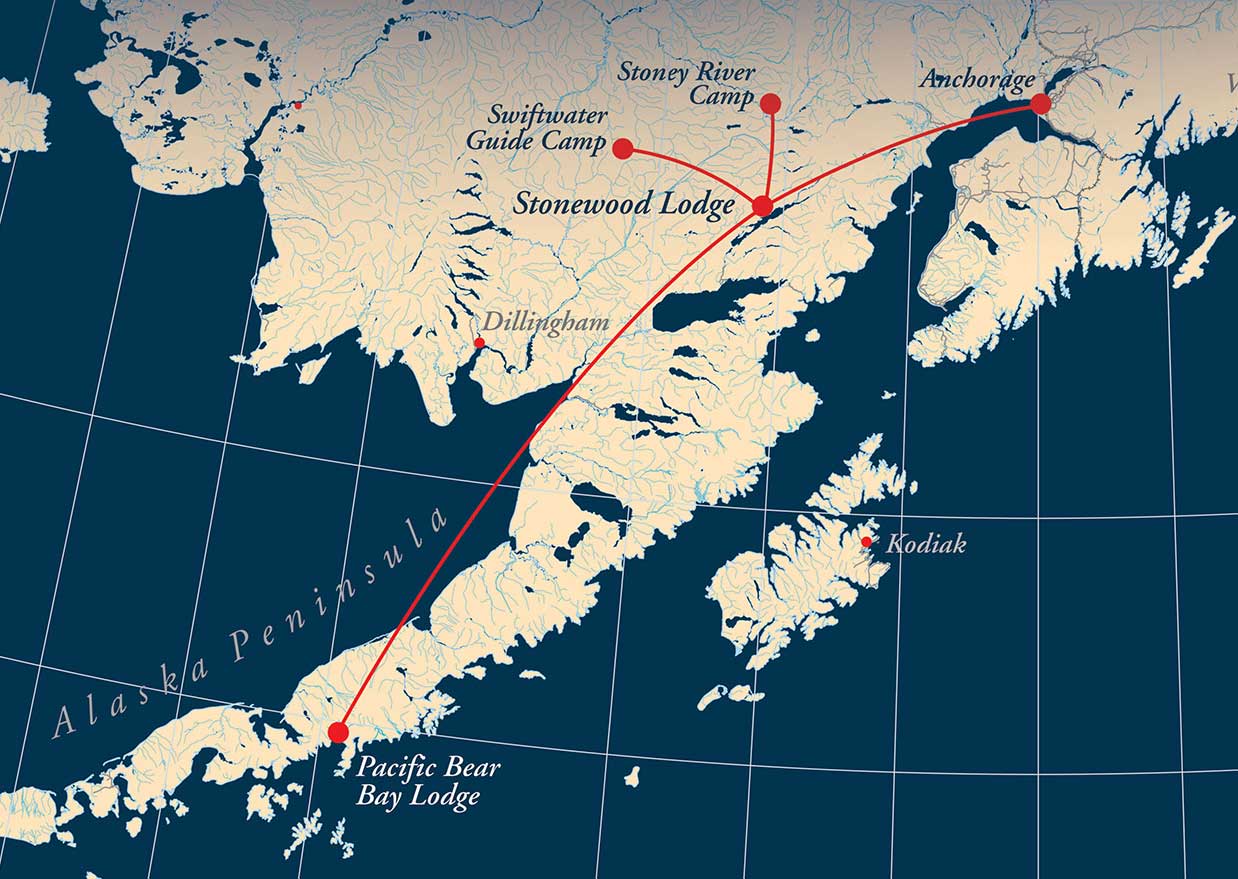 Accommodations at Camps Vary
We have everything from lodges, cabins or deluxe style tents. Meals are filling and satisfying, featuring cooked specialty dishes and supplemented with fresh vegetables and fruit. You can also be assured we'll cook up any freshly caught fish or seafood and supply some smoked salmon and wild game sausage. There are also plenty of snacks and warm drinks to keep you full and content.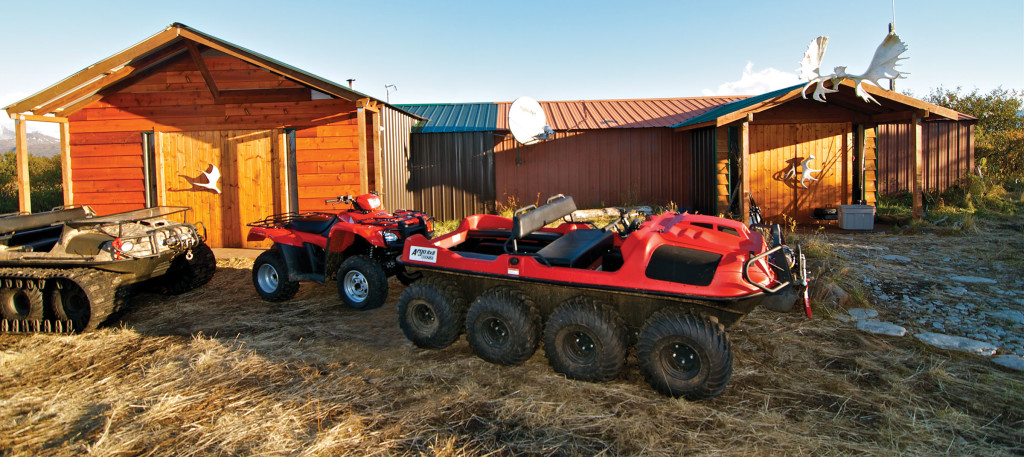 Pacific Bay Bear Lodge on the Alaska Peninsula offers a comfortable main lodge building and spike cabins and spike deluxe tents. Here Argos, boats and aircraft are used to aid with accessing spike locations and hunts.
Lake Clark is home to our Stonewood Lodge, a 10,000 square foot luxury wilderness lodge only accessible by plane. This location is within Lake Clark National Park and home to some of Alaska's best trophy fishing.  This creates a very relaxing starting point for some of our hunts on the coast or inland areas.
Learn more about our Alaska Adventures at our Stonewood Lodge page.