Alaska Moose Hunts
World Class Trophies and Alaskan Adventure
Testimonies     Gallery      The Dates      Map     Accommodations
We've all imagined hunting a large Alaskan Moose – watching as he lazily grazes through marshy ground moving his majestic set of antlers back and forth. With a few grunts and calls however, he is immediately at attention and makes our heart rates jump as we ready ourselves for the shot. We have moose hunting camps in some of the best habitat located in Southwest Alaska and on the Alaska Peninsula. Our hunts are conducted in September each year and after arrival into base camp you will continue on your hunt by either boat, argo or another short hop with a Super Cub into a spike camp.
Great efforts are put into all aspects of our moose hunts from gear and equipment to planning and scouting. We go through a detailed gear list and general hunt information with each hunter to ensure they are fully prepared and ready for their hunt. Our average trophy moose taken are between 55 and 70 inches, with our past hunting seasons harvesting up to 77 inch moose and the current #4 Boone and Crockett Alaska moose. We focus on harvesting older mature bulls and a moose hunt also provides a great opportunity to hunt Grizzly as well in areas where the seasons coincide.
We use both calling and spot and stalk methods while hunting moose. All open season dates are just as the bulls are beginning the rut or are active during the rut. We work hard to get each harvested moose out quickly and by any possible means such as Super Cub, raft, boat, argo, canoe, or by foot. As you can imagine, each moose provides a great amount of meat, and we will steadily continue packing out all of the meat from the field. Back at camp, meat is taken care of and we will have our fill of freshly grilled moose steaks and tenderloins. Hides and trophies are professionally cared for and prepared for transport and we work with you to get your trophy on its way to your taxidermist.
We can also combine fishing, bear hunting, and some site-seeing into the hunt to fill in the total experience. It may be possible to add on a few days prior or immediately after your hunt for these activities. It can also be a great hunt for a non-hunting companion to accompany you on- just ask us and we'll see what we can put together for you!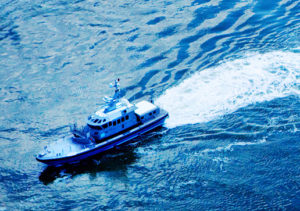 NEW HUNT OPTION – BOOK OUR CUSTOM BUILT BOAT Hunt Moose on the Alaska Peninsula using our custom build Alaska Boat. You will be able to access seemingly endless terrain and enjoy amazing comfort and amenities while on board.  This vessel will also be used for our Alaska Peninsula Brown Bear hunts as well as Kodiak Island Sitka Deer hunts. Contact us to learn more about the amazing hunting options which use this new state of the art vessel.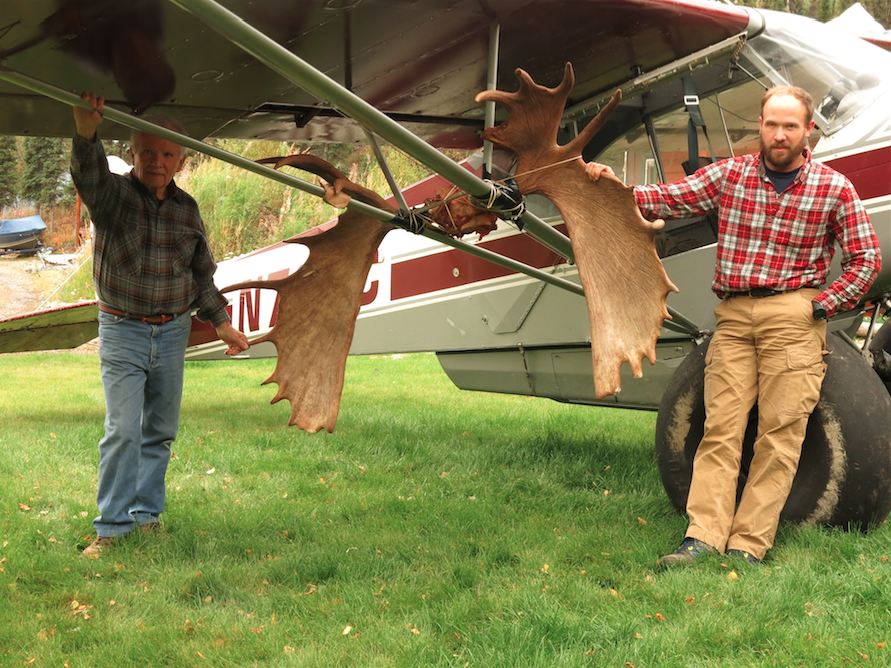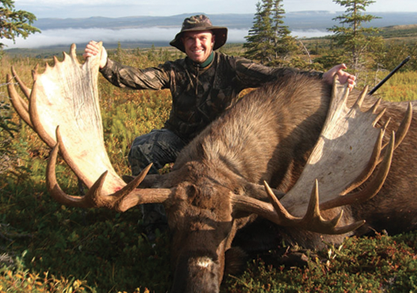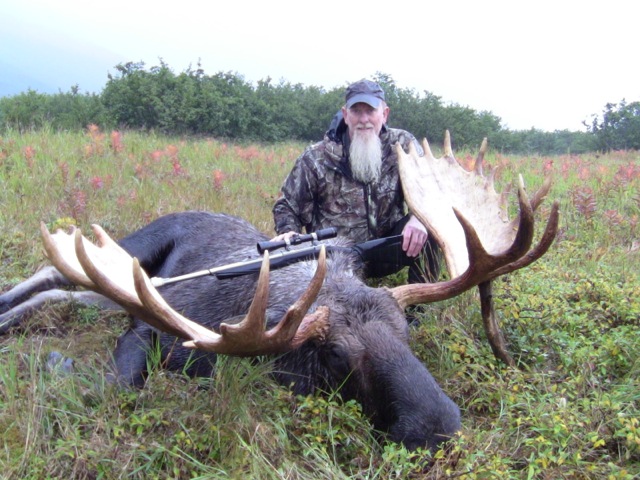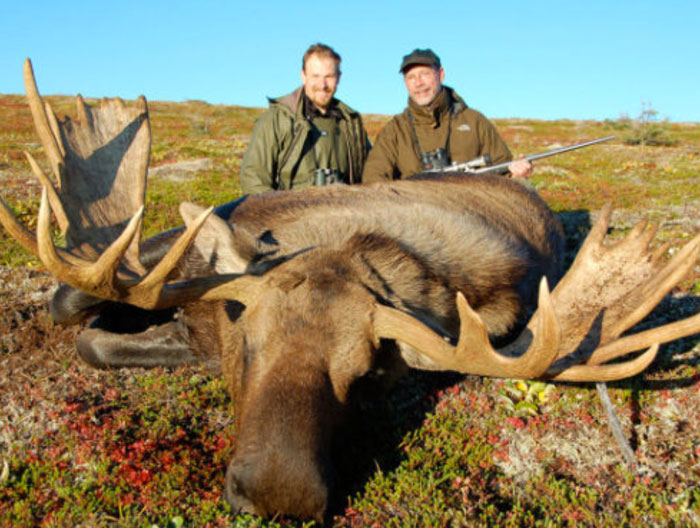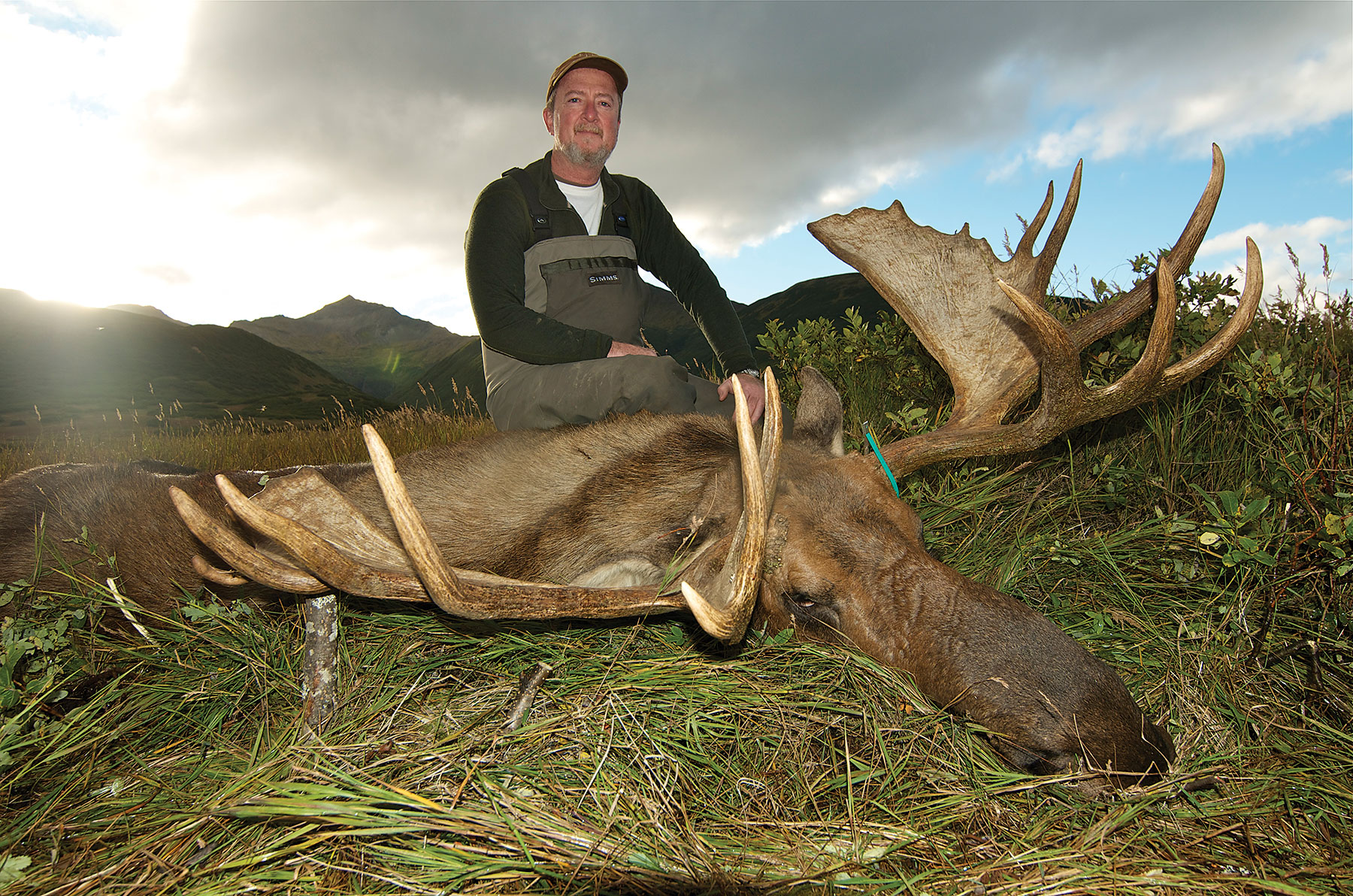 Testimonials
"Thank you for your hospitality and a great bear and moose hunt. We consider ourselves fortunate to have hunted with you. The Lodge is a wonderful place to stay including 1st class service with beautiful views of Lake Clark and the mountains. I had an awesome hunt taking 2 trophy's early in each hunt. A big boar Grizzly came lumbering down the valley toward us, presenting a perfect shot. My guide set me up and the bear never saw us. A big blonde hump grizzly bear is down!" – Daniel M.
"All in all I rate the hunt exceptional; preparation by the outfitter was unparalleled, exceptionally organized, and everything went smoothly. I've never completed a hunt in the first hour of the first day. I enjoyed my guide Joe and would hunt again with him anytime as I would with any of the other guides. I recommend Cavner and Julian's services as exceptional. I killed an excellent moose, my companions killed a great moose, and all hunters in camp got a moose. I booked the hunt 2 years prior and was contacted regularly and kept up to date on equipment. There were no problems due to proper planning, organization, and hard work. I have hunted around the world and there was no hunt better than this." – Jim E.
Hunting Dates
Our Moose hunts are conducted in September each year. These are remote hunting areas usually accessed by smaller aircraft. Depending on the hunting area, we hunt with the aid of jet boats, argos (4x4 vehicles) or aircraft.
Pricing & Booking
Request Pricing & Book A Trip
Contact Us
Hunt Locations

For Moose hunts we have camps in the Interior, Southwest Alaska, and on the Alaska Peninsula. Our average trophy moose taken are between 55 and 70 inches, with our past hunting seasons seeing up to 77 inch moose and the current #4 Booneand Crockett moose harvested out of our areas.
During this the Moose season this hunt area offers some of the top trophy fishing around. Talk to us about fishing fresh salmon, northern pike, arctic graying and rainbow trout as a part of your hunt.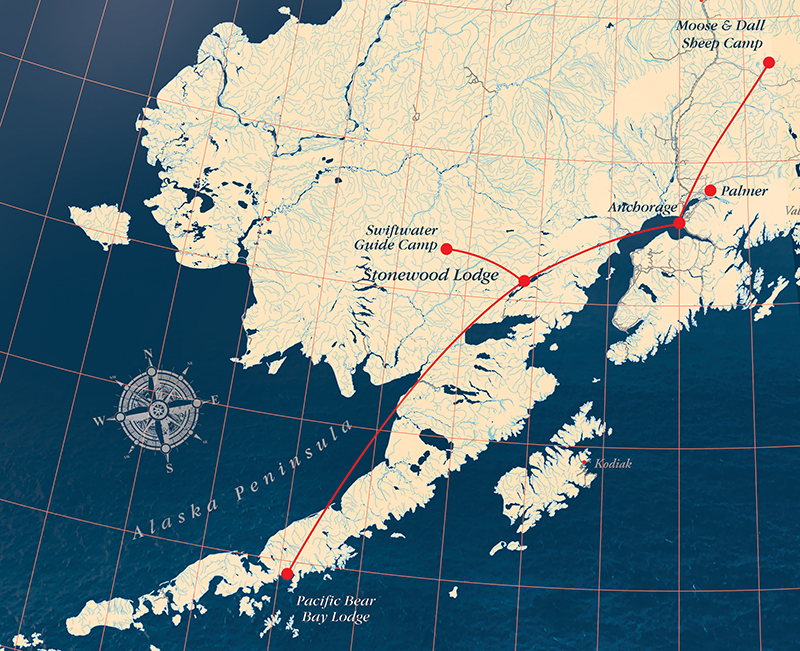 Accommodations
Alaskan weather can be harsh so our tents are very durable and are either canvas heated tents or alaskan bombshelter style tents that provide great protection from the weather. Some tents can be heated when needed and we are also able to utilize some small cabins to hunt from in some of our areas. We make our camps cozy and inviting as we can – providing you with a few comforts while in pursuit of your moose.
Our very comfortable Stonwood Lodge can be used on the front and backends of our Swiftwater moose hunts. This offers the a great option for spouses to stay in and hunters can relax in style before heading back to Anchorage.