Alaska Grizzly Bear Hunts
World Class Trophies and Alaskan Adventure
Testimonies     Gallery      The Dates      Map     Accommodations
We have a nice variety of color phases in Grizzlies from blond highlights with dark legs to chocolate browns to silver tips. The Arctic Grizzly is also considered to be a Barren Ground Grizzly. These hunts are great to combine with Caribou and Dall sheep hunts at packaged prices.
We are committed to providing our hunters with not only success but an organized and enjoyable experience. At Cavner & Julian, we use the most up to date and proven equipment, gear, and supplies and provide our hunters with detailed information and gear list in the months prior to their hunt. Every detail matters to us and we take extra care to provide an incredible and memorable hunt. We look forward to our future seasons at bear camp and spending time grilling and talking around the fire!
COMBINE WITH A MOOSE HUNT
Our Grizzly bear hunts are perfect to combine with a moose hunt. We have harvest some great trophy moose in the same areas as the grizzly with the racks between 55 and 70 inches.  The moose hunts are normally done by jet or drift boat and calling the moose in for close shots.  Ask us about a combo moose grizzly hunt, it is a great way to make the most of a Alaska hunting trip. 
"Thank you for your hospitality and a great bear and moose hunt. We consider ourselves fortunate to have hunted with you. The Lodge is a wonderful place to stay including lst class service with beautiful views of Lake Clark and the mountains. You have accomplished alot and made a beautiful retreat. I had an awesome hunt taking 2 trophy's early in each hunt. A big boar Grizzly came lumbering down the valley toward us, presenting a perfect shot. Eric set me up, the bear never seen us. A big blonde hump Grizzly Bear is down. With help from Eric and Bill, we had a Grizzly hide in Eric's backpack. I appreciate Good Guides, Thank You!" – Daniel M.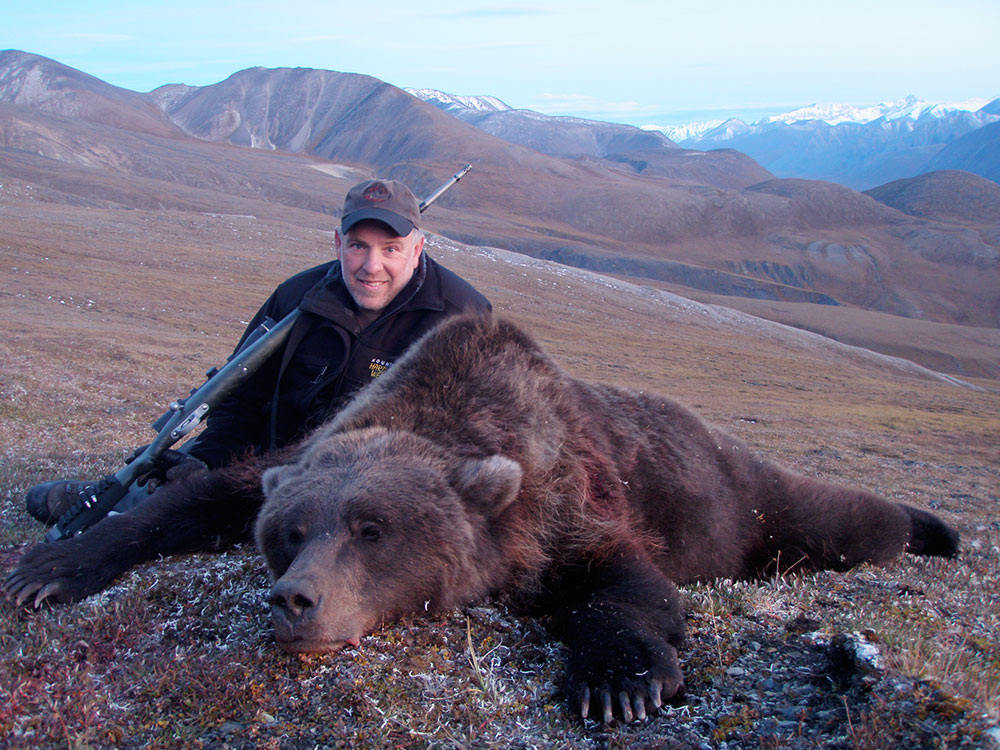 Hunting Dates
Grizzly Bear hunting takes place each fall, starting in August and running through mid September. This is a great hunt to combine with Caribou and Dall Sheep which are in the same season. This hunting area also offers some of the top trophy fishing around. Talk to us about fishing fresh salmon, northern pike, arctic graying and rainbow trout as a part of your hunt.
We also have some Grizzly Bear hunts which come through our Stonewood Lodge located on the 50 mile long Lake Clark. The hunt will begin and end at Stonewood Lodge, with a flyout to a remote camp location during the main hunt. This world class lodge is located within the Lake Clark National Park and offers gourmet meals and trophy fishing as well. Talk to us about adding some extra days at the lodge for trophy fishing or just relax before you head back home.
Pricing & Booking
Request Pricing & Book A Trip
Contact Us
Hunt Locations For inland browns and grizzlies we hunt from our own Swiftwater Camp on the Nushagak River. This remote camp offers amazing Alaska wilderness hunting with the aid of jet boats.
Some grizzly hunts may also take place from our luxury Stonewood Lodge located on the 50 mile long Lake Clark. This world class lodge is located within the Lake Clark National Park and offers gourmet meals and trophy fishing as well.
Accommodations at Camps Vary
For the Grizzly Hunts we utilize comfortable canvas and alpine tents at camps which guests are served hearty meals all week long.   For some added comfort some trips combine a start from our Stonewood Lodge, a 10,000 square foot luxury wilderness lodge only accessible by plane. This location is within Lake Clark National Park and home to some of Alaska's best trophy fishing.
Learn more about our Alaska Adventures at our Stonewood Lodge page.